Interim Assessments
Administering Interim & Practice Assessments
CA Science (CAST) Practice Test
SBAC Interim Assessments
Teachers are required to administer at least
one
Interim Assessment Block (IAB) for Math &
one
for ELA before March 31st.
Teachers administering a CAASPP Test–complete by March 31st:
Confirm that you can

login to the TOMS System
Before testing, search TOMS for any new students to confirm that they are in TOMS


Preview all pages on the CAASPP Resource Site

Print out your student Login Cards and store in a secure place

Login to PowerTeacher

Select the Report "SBAC_StudentLOGIN" to print the report

This year, the Student Login does NOT include the "CA-" prefix
Cut into individual cards and place in a secure place until needed

Use the
Interim Assessment Website
to administer one IAB in Math & ELA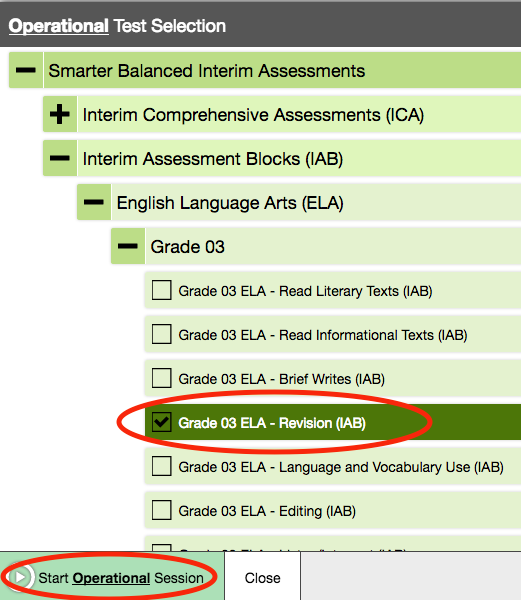 Select one Math & one ELA

I

AB (Refer to the tables at the bottom of this page)

Select IABs that do NOT have constructed response items

Constructed Response Items would REQUIRE hand scoring!

Before clicking the "Start Operational Session" button:

select the appropriate IAB for your grade level

drill down (click the + signs)
select the box next to the IAB Name

Share the Session ID & help your students login:
Students turn on the Macbook
The MB will automatically open to the testing account
Students open on the Testing folder and click the CASecureBrowser icon

Use the SBACSecure Browser found in the application folder
Chromebooks


Instruct students to log out of their Chromebook Account
Click on the App icon in the DOCK
Select the AIRSecureTest Browser
Resource for Teachers – IAB Blueprints:
The IAB Blueprints presents the specific blocks that are available by grade level for English Language Arts/Literacy or Mathematics beginning at grade 3. Each block-level blueprint contains information about the claim(s), assessment target(s), and depth of knowledge level(s) addressed by the items in that block, as well as the numbers of items allocated to each of those categories.